For the past 15 years, Secondary Trauma specialist and compassion fatigue educator Françoise Mathieu has been exploring tools to help all of us navigate the challenges of sustaining compassion and empathy towards others – both as individuals and professionals.
This talk explores ways to find the right balance between caring for others while staying healthy and empathic. Françoise is a Registered Psychotherapist and a compassion fatigue specialist. Her experience stems from over 20+ years as a mental health professional, working as a crisis counsellor and trauma specialist in university counselling, military, law enforcement and other community mental health environments.
Françoise is co-executive director of TEND, whose aim is to offer consulting and training to helpers on topics related to secondary trauma, compassion fatigue, burnout, self-care, wellness and organizational health. Since 2001, Françoise has given hundreds of seminars on compassion fatigue and secondary trauma across North America to thousands of helping professionals in the fields of health care, child welfare, the criminal justice system and other similar high stress, trauma exposed professions.
Françoise is the author of "The Compassion Fatigue Workbook" which was published by Routledge in 2012 as well as several articles and publications.
This talk was given at a TEDx event using the TED conference format but independently organized by a local community.
---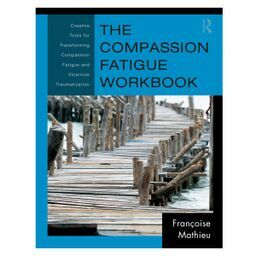 "Françoise Mathieu's writing is wonderful: she speaks from the heart, practitioner to practitioner, about the stressors and strains of human service work, particularly those that come from prolonged regular work with traumatized patients and clients. This is a book you help write by yourself and about yourself. That's why it is the workbook for trauma work." – Charles R. Figley, Tulane University, Louisiana, USA, and author of Treating Compassion Fatigue
.